We're Sorry
As our COVID world unrolls, it has been necessary to disband our BGCC volunteer driving service.  We are grateful to the many drivers and phone volunteers who have donated many hours since 2010.  However, over past years other services have become available.  We hope that the following list will be useful to you:
Drive to medical appointments and other needs:

CHATS   www.chats.on.ca  1-877-452-4287   You must register once and call the week ahead.
ROUTES  www.routes        1-905-722-4616   You must register once and call several days ahead.
Both agencies have paid admin. staff to make arrangements but use volunteer drivers.  There is a small fee for service (mileage, parking etc.)

Stouffville bus service has a route available to pick you up at your door and deliver you to one of five places in Stouffville.  The service works in the mornings and evenings.  You must call two hours ahead. It may be a shared ride.  The bus stops at 5 places in Stouffville only: Walmart mall, No Frills, Stouffville GO station, public library and leisure centre, Tenth line at Shoppers Drug Front door.  Cost is $4.25, exact change or Presto card.   Call  1-844-667-5327
Uber  Load app on cell phone, register ahead, pay by VISA
Taxis:

Uxbridge Taxi.  1-416-318-1786
A1 Taxi service.  905-470-8294

Groceries:

Grocery Gateway (Longos)       
Voila (Sobeys)
 Both deliver in BGCC
Our BGCC Medical Equipment loan service is listed on our website.  It is busy, free to residents, has gently used wheelchairs, walkers, shower seats, raised toilet seats plus other items.
For additional support resources refer to the Independent Living & Home Care Services tab or Click HERE
Volunteering in York Region
Community Agencies who provide direct service to residents of Ballantrae Golf & Country Club community, need volunteers to help provide those services. The agencies will provide the job description and do the interviewing, screening, and training if needed.
Below are some of the Volunteer Opportunities which are posted at this time from Community Agencies serving our area. For other opportunities,
go to http://www.volunteeryorkregion.ca/
ALZHEIMER SOCIETY
ALZHEIMER SOCIETY OF YORK REGION
240 Edward St. Unit 2
Aurora, ON L4G 3S9
Mon. – Fri. 9:00 – 4:30, 905-726-3477, Toll-Free: 1-888-414-5550

Website: https://alzheimer.ca/en/york/Get-involved/Volunteer
EVERGREEN HOSPICE
Updated March, 2020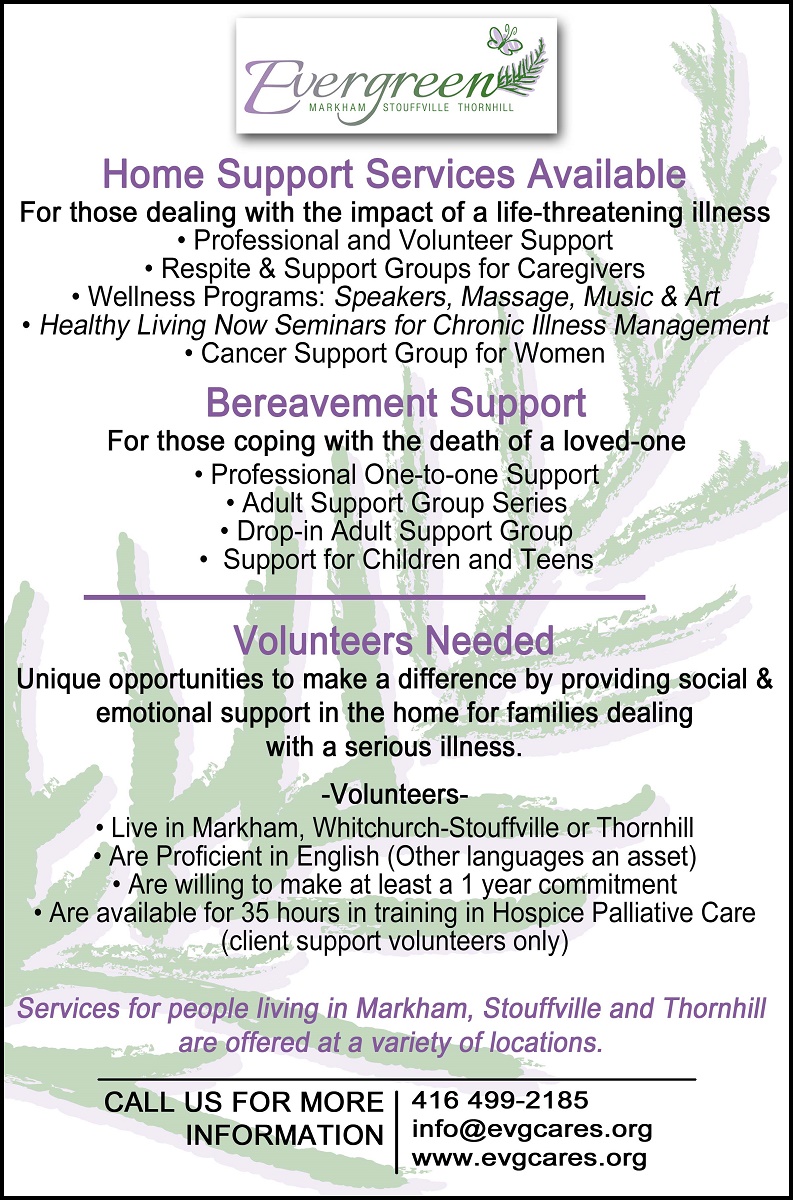 CHATS
CHATS (Community and Home Assistance to Seniors)
York Region Office:
240 Edward Street, Suite 1
Aurora, L4G 3S9
1-877-452-4287  www.chats.on.ca
Be a Volunteer Driver:
CHATS is seeking Volunteer Transportation Drivers to support local seniors to attend medical appointments and go grocery shopping.
This is a flexible volunteer opportunity that allows you to choose your own schedule.
Just a few hours a week can make the difference in a someone's life. Mileage is reimbursed.
Current Opportunities
If you would like to volunteer with older adults, view our Volunteer Opportunities, call the CHATS Volunteer Department at 905-713-3494 (toll-free at 1-877-755-3494).
Updated March, 2020
CARE AND SHARE THRIFT SHOP
33 Ringwood Drive
Whitchurch-Stouffville, Ontario
Canada L4A 8C1
905-640-1410
MCC Care & Share celebrates its 100th birthday in 2020. Join Us!
Since 1920, MCC (Mennonite Central Committee) has worked with partners and supporters, responding to basic human needs, while working for peace and justice. 
Join us by volunteering at Care & Share Thrift Shop. We value the talents and passion that our volunteers bring.
We invite you to call the shop or drop by to find out more.
For more information, go to the website http://www.stouffvillethrift.ca/volunteer/  or contact the Volunteer Coordinator, Tom at 905-640-1410 or email careandshare@mcco.ca
Updated January, 2020
FOOD BANK
WHITCHURCH-STOUFFVILLE FOOD BANK
86 Ringwood Dr., Units 24 and 25, Stouffville
The Food Bank serves anyone with a need who has a Whitchurch Stouffville address.
For information about volunteer opportunities, please see their website: www.wsfoodbank.ca
Updated March, 2020
CANADIAN CANCER SOCIETY
CANADIAN CANCER SOCIETY–Toronto, Peel, and Southern York Region Community Office
Serving the communities of Toronto, Brampton, Mississauga, Caledon, Vaughan, Richmond Hill, Thornhill, Markham, and Stouffville.
55 St. Clair Ave. W., Suite 500
Toronto, ON M4V 2Y7
Mon. – Fri. 9 – 5. 416-488-5400, Toll Free: 1-888-939-3333   
Website: www.cancer.ca
VOLUNTEERS NEEDED
Updated March 2020
Kim Umbach, Volunteer Engagement Coordinator  
(416) 323-7035. Phone: ext. 7035 
kumbach@ontario.cancer.ca
Volunteer Driver
Ideally long term but scheduling is flexible.
Drive clients to cancer-related appointments. Training provided; smoke-free, well maintained car required. Reference checks undertaken. Must be available anytime between 9am-5pm Monday to Friday.
Peer Matching Support Volunteer
Visit by telephone/e-mail/instant message with someone dealing with a cancer diagnosis, or a caregiver. Volunteer must have undergone cancer, have experience with cancer or as a caregiver. Training provided, plus annual continuing education.
Outreach and Presentation Volunteer
Minimum 4 hours a year
Help to raise public awareness about the Canadian Cancer Society programs and activities in your local community. Set up and staff displays at health fairs and community events. Must be friendly, able to talk to the general public. Car required.
Office/Admin. Support Volunteer
Minimum 3 hours a week
 Enthusiastic, flexible volunteers for general administrative support, and help preparing for events. Familiarity with Microsoft Office an asset.
Fundraising Volunteers
Daffodil Days – April, Relay for Life – June, Pink Ribbon – October, Hope and the City – October; also needed for other special events throughout the year.
Relay for Life Committee Members
We are always looking for dedicated individuals to work on various roles for our Relay for Life events which are held in June each year.