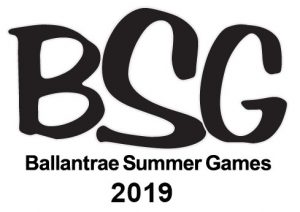 Results
Gold – Condo 1 – Glen Smith, Karen Clark, Eileen McIsaac, Gayle Connor, Pat Wood

Silver – Condo 4 – Larry Tumino, Ron Findlay, Lynne Peter, Doug Peter, Margo Pilar

Bronze – Condo 4 – Joan Natoli, Ian Innes, Val Innes, George Gauld, Jan Adams
Bronze – Condo 1 – Sharon Brown, Rocky Sankoff, Ellie Cannon, Stew Cannon
Overview of Trivia 2019
Come one! Come all! Come and have some fun! Trivia is now part of the Ballantrae Summer Games.
What is "Trivia" – the game that has been increasing in popularity more and more over recent years? 
Trivia, by definition, is something inconsequential. It is the game where 'all the useless facts you have been collecting over the years finally come in handy.' When hearing the answer to a Trivia question, the response usually is 'I knew that!'.
In the Summer Games, it is planned to have two sessions of Progressive Trivia. The questions, answers and marking for each session should take about one hour.
Entrants will form themselves into condo teams which may consist of 3 to 5 players. The number in each team to be determined by the teams themselves. 
Each team is to pick a unique name that must include its condo designation. 
Teams competing will be asked a series of Trivia questions. The scores from each session, that is the number of correct answers, will be kept for each team. The score each team earns in each session will be accumulated and totaled. 
During each session, a set of questions plus a bonus question or two will be asked. Each team will have an official answer sheet on which to write the team answer. Absolute quiet is essential as teams need to keep their answers private. 
At the conclusion of the question set, answer sheets will be swapped with another team for marking. The score earned will be entered on the answer sheet which will be turned in to the Director who will keep a running score by team. 
After the Two sessions, the team with the highest, second highest and third highest number of accumulated points will be declared the winners.
There are rules which will be published Below…but…the first and foremost rule is for everyone to have fun and enjoy participating. 
Come out and join in. You will find it fun, thought provoking, very enjoyable and worthwhile.
Naturally the teams with the highest accumulated scores will be on the podium to be awarded either Gold, Silver or Bronze medals. They will also enjoy the privilege of 'bragging rights'.
Questions? Please contact either your condo captain or myself at colin1066@rogers.com (using Trivia or Summer Games in the title line) or call me at 905-640-9289.
See you at Trivia!
TRIVIA GAMES SCHEDULE
The Trivia schedule is as follows:-
– Wednesday, August 21 from 10:30 a.m. to noon.
– Thursday, August 22 from 2 p.m. to 4 p.m.
Medal winners will be calculated after the Thursday, August 22 Trivia session and announced soon afterwards when they are available.
TRIVIA RULES.
There are a number of rules:-
– Contestants must have fun
– Condo teams must consist of a minimum of 3 players and a maximum of 5 players and have a unique name that includes a condo identifier. 
– A condo may enter multiple teams.
– No electronic or other aids are allowed
– Absolutely quiet during the question asking stage is essential. You are free to make comments during the marking phase.
– 30 seconds or so will be given to write down the answer before the next question is asked
– One minute or there about will be given at the end of the session to finalize answers
– Questions will be repeated twice ONLY. 
– Questions will NOT be repeated at the end of the session so write down the questions if you must 
– A team CANNOT correct its' own answer sheet
– Correct spelling is not required as long as the marker can recognize the correct answer
– Clues may be provided but all contestants must agree
– The Director's answers have been researched, are deemed to be correct even if they are wrong and the Director (that's Colin) has the final say on all disputed matters and/or answers
– No kicking, biting, scratching or yelling is allowed.
– So, come to Trivia and have some fun!
For a printable copy click/tap: Trivia Overview.