So, with the ministry of Ministry of Northern Development, Mines, Natural Resources and Forestry offices predicting increases in LDD for the year 2022 in Ontario, this invasive species was noted in our community last year (1). Formerly called the gypsy or spongy moth, Lymantria dispar dispar is a member of the family Erebidae, one of nine out of a hundred-and-thirty-three families of caterpillars potentially causing severe pathophysiological conditions in humans. If you are interested in additional reading, Ontario.ca and the Canadian Food Inspection Agency (CFIA) are helpful resources and many illustrations in this blog come from these internet sites (1,2). Although beyond the scope of this blog an extensive scientific publication grabbed my attention, hence the need to inform my community about preventative steps to mitigate health risks to anyone dealing with LDD; Seldeslachts et al. published — Caterpillar Venom: A Health Hazard of the 21st Century (3).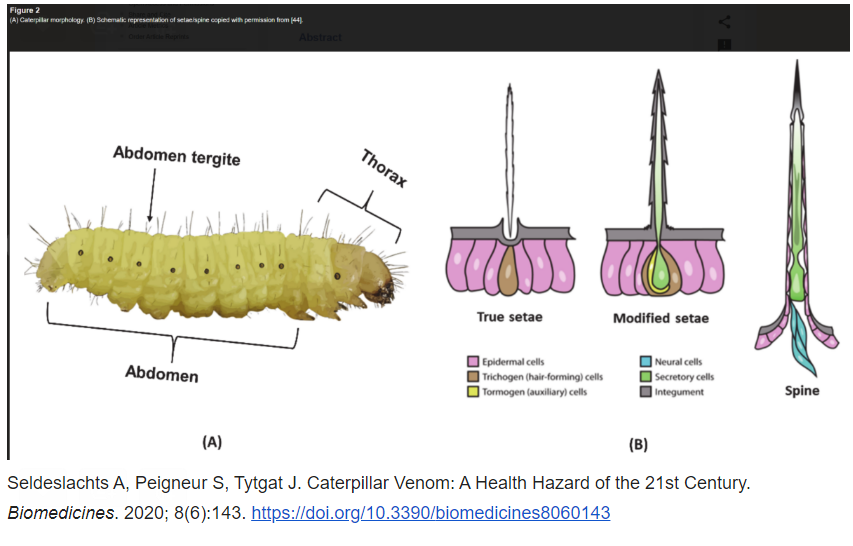 So, what is the hazard to our health with caterpillars anyways? It all boils down to evolutionary anatomy. The caterpillar developed sharp hairs, nine families having venom, so predators would not eat them. When these sharp brittle hairs, or setae, break off and puncture your skin or eyes they can result in local allergic or systemic toxic reactions. From the adjacent illustration its easy to understand why all these barbed setae continue to penetrate deeper into our tissues where they may cause inflammation, pain, and loss of function (3).
Do I need to protect my eyes as well as my skin? Yes, protecting your eyes and skin are essential and your lungs as well. Let us consider your eye protection primarily because I spent 30 years looking after ocular trauma as an ophthalmologist. One of my professors and teachers of ophthalmology, Dr. Warner Cadera, developed a classification of ocular inflammation and severity of caterpillar eye injuries since we had these sent to us in the pediatric clinic. Ongoing penetration of the eye, secondary to setae, may even lead to permanent visual loss (4).
I respect everyone's personal choice for pets, but pet store managers might better inform potential owners of inherent risks with certain species. Just like caterpillar setae, spiders possess defense mechanisms apart from venom. Tarantulas are becoming increasingly popular pets. Therefore, arachnid pet owners are at increased risks of ocular, respiratory and skin involvement. If the spider feels threatened it rubs its legs together quickly shooting setae, like harpoons, into your eyes (5,6,7). One night in the operating room I spent hours removing hundreds of tarantula hairs from a pet-owners cornea, conjunctiva, sclera, and eyelids. Eleven months of follow-up and painful corneal erosions followed. Animal lovers not-to-worry; the owner blamed herself and kept the spider as a pet but took my suggestions to wear a face shield and gloves when 'bonding with her pet.' Caterpillars in general cannot shoot hairs from their bodies but hundreds of setae can enter your eyes, your lungs and skin. with shedding of the hairs into burlap sacs or contact with the caterpillars directly. We are rapidly approaching Mid-May to June late-stage caterpillar with burlap bands that numerous Ballantrae residents wrap around their trees. Therefore, consider wearing thick disposable gloves, a mask and protective eyewear at that time. The Ontario.ca website illustrates five stages of Lymantria dispar dispar below with recommendations on how to deal with this invasive species.
So, in summary with caterpillar season just around the corner follow the suggestions from a general practice with experience in caterpillar eye injuries – Box 3 below (8). Mask up, glove up and wear safety glasses.
Lymantria dispar dispar (LDD) moth, Ontario.ca. Feb 18, 2022. Accessed 13 April 2022. Available at: Lymantria dispar dispar (LDD) moth | ontario.ca
Lymantria dispar dispar(LDD) moth, Canada.ca. Aug 12, 2021. Accessed 13 April 2022. Available at: Lymantria dispar dispar (LDD moth) – Fact sheet – Canadian Food Inspection Agency (canada.ca)
Seldeslachts A, Peigneur S, Tytgat J. Caterpillar Venom: A Health Hazard of the 21st Century. Biomedicines. 2020; 8(6):143. https://doi.org/10.3390/biomedicines8060143.4.
Cadera W, Pachtman MA, Fountain JA, Ellis FD, Wilson FM 2nd. Ocular lesions caused by caterpillar hairs (ophthalmia nodosa). Can J Ophthalmol. 1984 Feb;19(1):40-4. PMID: 6608976.
Hom-Choudhury A, Koukkoulli A, Norris JH, Mokete B, Backhouse OC. A hairy affair: tarantula setae-induced panuveitis requiring pars plana vitrectomy. Int Ophthalmol. 2012 Apr;32(2):161-3. doi: 10.1007/s10792-011-9502-4. Epub 2012 Jan 6. PMID: 22222718.
Sheth H G, Pacheco P, Sallam A, Lightman S. "Pole to Pole Intraocular Transit of Tarantula Hairs—An Intriguing Cause of Red Eye", Case Reports in Medicine, vol. 2009, Article ID 159097, 2 pages, 2009.https://doi.org/10.1155/2009/159097
Stagg B C, Ambati B K. Tarantulas Hairs as Corneal Foreign Bodies. Case Rep Ophthalmol.2011 Sep-Dec; 2(3): 323–326. Published online 2011 Oct 2. doi: 10.1159/000333105
Rahlenbeck S, Utikal J. The oak processionary moth: a new health hazard? Br J Gen Pract. 2015;65(637):435-436. doi:10.3399/bjgp15X686341