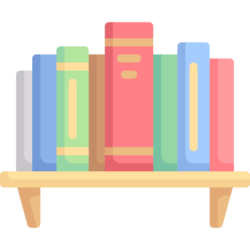 What's available in the Library?
If you've never visited the library, drop in and check it out.  You will find a wide-ranging selection of recent fiction and non-fiction books available to borrow.  Fiction includes everything from bestsellers, thrillers and mysteries to literary titles and even a small 'classics' section.  The non-fiction has special sections for biographies, sports and World War II.  The library also offers jigsaw puzzles and a small selection of audiobooks and magazines for loan.
Hours and Borrowing guidelines
The library is open during Rec Centre hours .  The loan period is totally flexible.  To borrow, simply write your name and the titles borrowed in the binder on the counter.  The purpose of the sign-out binder is to provide statistics on how well the library is being used and what kinds of books are most popular. 
Donations
The library is stocked entirely with donated items so if you have any books in good condition published after 2014, the library will be happy to take them!  We are especially in need of current popular magazines published in the past year.  Jigsaw puzzles may be donated as well. 
If you have any questions about the library, please reach out to the BGCC Librarian, Pat Reid  (email
preid@creph.ca
).
Pat Reid
BGCC Librarian