BSG 2023 American Style National Mah Jongg
BSG Games Captain remarks
Schedule = see BSG Calendar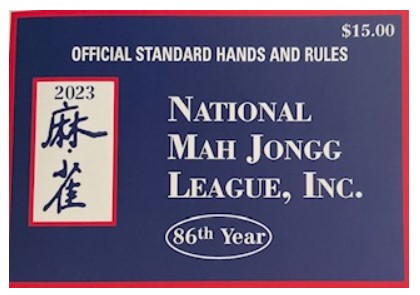 The Medals Round for Mah Jongg will take place on Thursday August 24th at the Rec Centre, between 1:00 pm and 4:00pm.   Please arrive by 12:45 am so that we may start on time.
Prior to the Medals Round, each Mah Jongg Condo Captain will be responsible for a play down to select the four top players from those registered.  If required, space will be booked at the Recreation Centre for the play downs.   If four or less have registered all will play in the final and no play down will be required.       
Upon arrival, each player will be given a Score Card with your name and your Player Number on it.  The Score Card will also provide table numbers for each round, for each person;
We will play 4 games at each table, which should take about an hour and that is the end of Round 1.  Once all tables have completed Round 1, everyone will move to the next table indicated on their Score Card for Round 2.  Rounds 3 and 4 will be completed in a similar manner and the tournament will be concluded at 4 pm or as close to that time as possible;
Each person competing will keep track of games they won on the Score Cards provided.  Points will be awarded as set out on the Mah Jongg Card according to the hand you play;
At the end of the day, all Score Cards will be collected, the totals calculated and the results submitted to the Ballantrae Games Co-ordinator.  Medals will be awarded the following week.
MAH JONGG RULES IN GENERAL
We will be following the rules of the National Mah Jongg League, as set out on the back of the Card.  In the event of a dispute, the Sport Captain will arbitrate, which arbitration will be final and binding;
For our purposes, the Player who is East, will count 8 tiles from the left hand side (the hot wall) and the remaining tiles will be distributed in the usual manner.  Any and all "hot wall" rules will NOT apply.
When picking a tile, you must "rack it" or "click it"otherwise the last tile discarded will still be a live tile and can be called at any time.  There is no picking ahead.
There will be no "teaching", you must be able to play and have your own 2023 Card.  Questions cannot be asked while playing;
If you have any questions or wish to register to play on Thurs. Aug. 24th, kindly contact Mary Freedman, email mary@ballantraegeek.ca