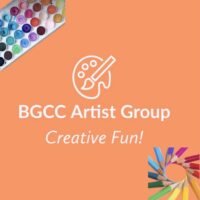 Weekly drop-in painting group at the BGCC Recreation Centre. Meeting Wednesdays from 1:00 – 4:00 pm, starting Wednesday May 10, 2023. No fee or registration required, just drop in any time and bring your own art supplies. All skill levels and mediums welcome including watercolours, acrylics, oils, pencil and pastels.
Join a supportive and friendly community of artists that value creativity, experimentation and learning from each other. To join us for fun and relaxing painting, send an email to Al at alsys123@gmail.com. 
Can't wait to see what you create!
New for 2024 is a monthly featured artwork to be displayed in the recreation centre lobby.

Members of this group are joining a private Facebook group called Artists Of Forty-Eight.  It can be found here:
https://www.facebook.com/groups/173769891984182
Here are some of the people in our group
 https://www.hotg.ca/painting-bios/
Enjoy some photos of our group below and some work in progress (wip) painting they are working on.  Some finished work is there as well.  Some of our artists are professional painters and sell their work.  Contact Al (see above email) if you have any questions.  This group is non-profit, fun and just a nice way for us to get together and create.